VENUE
Freedom of the City is held in the Conway Hall, 25 Red Lion Square, London WC1R 4RL.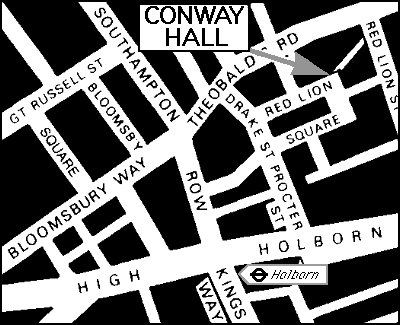 Underground
Nearest station is Holborn (Central and Piccadilly lines) approx 3 min walk. Also within reasonable walking distance are Chancery Lane and Russell Square. London Underground Infoline: 020 7222 1234.
Buses
The following buses pass through or near Holborn stopping just a few minutes walk to the Hall:
from Oxford Street: 8, 25, 55; 98 (terminates in Red Lion Square)
from Euston Station: 59, 68, 91, 188
from Waterloo Station: 1, 59, 68, 188, 521, 243
from Victoria: 38 (Theobalds Rd, rear side of Hall)
London Buses Infoline: 020 7222 1234
British Rail
Excellent connections via numerous bus routes from most central London main line stations. British Rail Infoline: 0845 748 4950.
Parking
There is metered parking available in Red Lion Square and adjacent streets, unrestricted weekdays after 6.30 p.m., Saturdays after 1.30 p.m. and Sundays all day. Please note some parking areas are for "Residents Only" and other local restrictions. For info ring the London Borough of Camden on 020 7278 4444.