TONY MARSH / ALEXANDER HAWKINS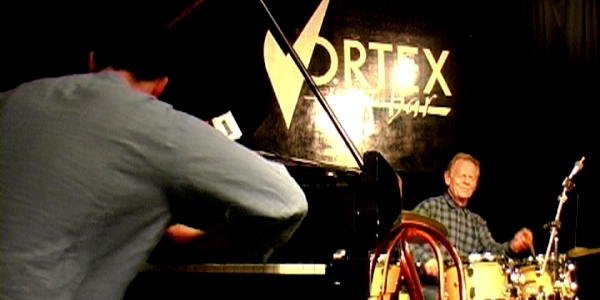 Tony Marsh (drums) and Alexander Hawkins (piano) first collaborated as members of Evan Parker's quartet, and have since also played in quartet with Paul Dunmall, as well as continuing work as a duo. Almost half a century separates the birth of these two musicians, yet it is impossible to put even a millisecond between them when they play together. Lightning percussion meets piano thunder in a free flowing musical storm that leaves audiences battered, braced and ultimately refreshed.

Tony Marsh
Tony Marsh is a regular player on the London improvising scene who, according to The Guardian's Richard Williams has a: "marvelous ability to erase the boundary between time and no-time" and "an exquisite feeling for percussive texture". Tony will be playing in London in the next twelve weeks with: Evan Parker; John Edwards; Paul Dunmall; Nick Stevens; Chris Biscoe; Tom-Mix Trio; Ray Warleigh; The London Improvisers Orchestra; Alison Blunt; Hannah Marshall and Alexander Hawkins. Tony is also working on a solo project, Percussion over Heaven.
Alexander Hawkins
Born in Oxford in 1981, Alexander Hawkins is a pianist described as having a "fierce technique" and a "wizard's touch". Indeed, a recent interview commented that he is "just emerging as one of the most striking voices of his generation, both with unique things to say and unique ways of expressing them" (David Grundy, Eartrip). He leads his own "Ensemble" (featuring Orphy Robinson, album out very shortly on FMR) and co-leads the "Convergence Quartet" (featuring Taylor Ho Bynum, Harris Eisenstadt, and Dominic Lash), whose first album featured in two critics' Top Ten Albums of 2007 lists. Other projects include "Barkingside" (featuring Lash, Alex Ward, and Paul May), "Nostromo" (featuring Pete McPhail), and Ntshuks Bonga's "Qwati" (featuring Bonga, Claude Deppa, Oren Marshall, and Mark Sanders). He has also recently worked both in trio and quartet with Evan Parker. As an organist, Hawkins plays in a trio with Steve Noble and John Edwards, as well as in the funk group "Big Train's Haymaker". Other more ad hoc collaborations have included with musicians such as Tom Arthurs, Tony Bevan, Gail Brand, John Butcher, Lol Coxhill, Otto Fischer, Will Gaines, John Russell, Pat Thomas, Clark Tracey, Steve Waterman, Alan Wilkinson, and Steve Williamson, amongst many others. He has also played with the Pendulum big band, the London Improvisers Orchestra, and the Oxford Improvisers Orchestra.
Photo by Helen Petts
http://www.youtube.com/watch?v=AOpmnsqBQdk
http://www.alexanderhawkins.com/